Written by Jolene Hrynyk, a volunteer at Calgary Family Nutrition. For more information, you can see her bio here.
Today we're tackling a grocery store aisle that is stressful for a lot of people, the granola bar aisle. I'm going to share with you some straightforward guidelines to help decrease the confusion a little.
Firstly we have to make a distinction between two kinds of bars. Plain granola bars and bars with nuts high on the ingredient list that are more like energy bars. I'm only going to talk about plain bars today as many schools today are nut-free, and many nut-based bars supply more energy than most children will need as a morning or afternoon snack.
The granola bars below fall into the "choose most often" category of the alberta nutrition guidelines for children and youth. These guidelines were created to help schools and childcare centers choose healthy food to offer children using the nutrition facts table, but can be helpful for parents as well. In addition to looking at the nutrition facts take a peek at the ingredients list – remember less is more! Make sure you also look out for flashy health claims like "half a day's fibre" or "full serving of vegetables" as these are used as marketing to get you to buy the product.
According to these guidelines, a granola bar falls under the "choose most often" category if it has;
Less than 5 g of fat,

Less than 2 g of saturated fat,

Greater than or equal to 2 g of fibre

Less than or equal to 10 g of sugar

Made of whole grains
If that seems like a lot of numbers to remember don't worry, I've highlighted some options that fit that criteria below.
All of the Granola bars made by this brand fall within the guidelines, and they have one of the simpler ingredient lists of commercial granola bars. They are however pricier at 80 cents per bar at my local grocery store.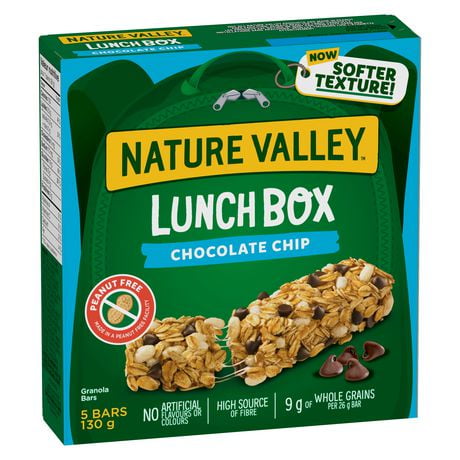 All the granola bars in nature valleys lunchbox line fall within guidelines and this flavor in particular features 4 g of sugar but still has chocolate which may appeal to your child. They are also 40 cents each at my local grocery store making them an affordable option.
| | | | | |
| --- | --- | --- | --- | --- |
| Bar | <5g Fat | <2g saturated fat | >2g fibre | <10g sugar |
| Nature's path chococonut granola bars | ✓ | ✓ | ✓ | ✓ |
| Cliff kids Z-bar chocolate chip granola bars | ✓ | ✓ | ✓ | No |
| Quaker chewy apple fruit crumble granola bars | ✓ | ✓ | ✓ | ✓ |
| FibreOne oats and chocolate granola bars | ✓ | ✓ | ✓ | ✓ |
| PC blue menu berry blend chewy bars | ✓ | ✓ | ✓ | ✓ |
| PC dipped and chewy chocolate and marshmallow granola bars | ✓ | No | No | No |
| Kirkland soft and chewy granola bars | ✓ | ✓ | No | ✓ |
There are also other options for on the go snacks like unsweetened applesauce in squeeze pouches, a baggie of air-popped popcorn costs very little and small homemade muffins allow you to control the ingredients.
Nutrition Fun fact:
Most granola bars on the market contain fibre additives to increase the amount of fibre listed on the label. One of the most common of these added fibres is inulin or chicory root fibre.